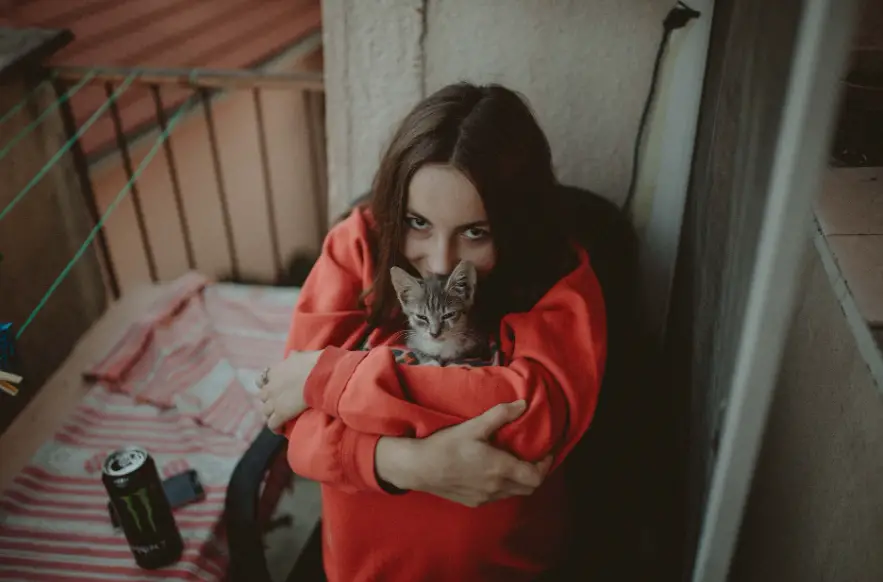 Good air quality starts at home, but if you have pets, you might be looking for the best air purifier for cat allergies. Not only does healthy indoor air help you breathe easier but it will also create a better environment for your guests.
We care about your reputation among the neighbors and your relatives who are not cat lovers or have allergies to pets. That's why we're suggesting some units in this article. Air purifiers are one of the best ways to control the amount of pet dander flying around in your indoor space.
Keeping a cat is a big responsibility and that includes maintaining cleanliness in your surroundings. We can't control a cat scratching, which makes the air filled with pet dander. Therefore, a good solution is to use an air purifier to capture the allergens from the air.
What is the best air filter for cat allergies?
To get cat allergies out of the house, you will need the best air purifier to remove dust which has a HEPA filter that can take out pet dander. Amazon is the best place to look for air purifiers due to their quality selection of items and good customer service. Here are some examples we'd like to suggest to you:
Ideal room size: 1,500 square feet
Filters: True HEPA (H13 medical-grade), washable pre-filter, cold catalyst filter, activated carbon, polypropylene pre-filter
With multiple filters to suck up dirt and cat allergens from the air, this air purifier is medical-grade so it will remove particles as small as 0.1 microns in size. It is ETL, CARB, and Energy Star certified for quality and eco-friendliness. The sleek touch panel is easy to use for most households and selecting the settings will be a breeze.
What we like is the air sensor that does the job for you by picking the appropriate fan speed (up to 5 speeds to choose from) depending on the air quality indoors. Since you can wash the pre-filter, it is ideal for homes with pets and with pet dander flying around.
Ideal room size: 700 square feet
Filters: True HEPA H13 filter, 0.66 pounds of activated carbon for odors
As an air purifier best for medium-sized rooms, this one can capture pet fur and dander thanks to its H13 medical-grade filter. The sleek design of the unit will make it easy for you to place it anywhere around the house while the stylish cover panel options will be ideal for matching with home decor.
It even has a sleep mode in which the lights turn off to avoid distracting you while you sleep. With 4 fan speeds to choose from, this one also has a timer and a lock feature to keep your cat's paws from tampering with the settings.
The life of the filter is about 9 to 12 months as compared to regular ones that are only up to 6 months on average. Since it only consumes 36 watts, it won't be a big impact on your electric bill. The design will be ideal for use in bedrooms, family rooms, kitchens, nurseries, home offices, and the like.
Ideal room size: 800 square feet
Filters: True HEPA filter
With 4 timer options and 3 fan speeds, this air purifier is lightweight at only 14.8 pounds so moving it from room to room will not be a hassle. It also has an intelligent sensor that adjusts the speed settings accordingly so you don't have to wake up in the middle of the night. Since it only has 28 dB of noise level at the lowest speed, it won't be distracting when you sleep.
This one has a child lock safe mode as well to keep the settings intact even when Tabby tries to fiddle with it. The unit also has a filter reset indicator light so you don't have to disassemble the air purifier to check if the filter needs to be replaced.
Ideal room size: 335 square feet
Filters: True HEPA filter, UV-C light, activated carbon filter, pre-filter/charcoal
Best for small to medium-sized rooms, this multi-filer air purifier has a handle that makes transport easy. It will also help with pet odors due to the charcoal filter. With 3 speeds to choose from and a 6-hour timer, it will be ideal for bedrooms where your cat usually sleeps or hangs around. Since it is only at around 15 dB, it won't distract you when you sleep. It is backed by a 3-year warranty.
Do air purifiers help with cat allergies?
Yes! Whether you're wondering how to get rid of dust floating in the air, eliminating pet dander from your cats, or simply trying to get your indoor air clean, air purifiers are effective thanks to the following features:
HEPA filter
This will clean up dust and pet dander from the air.
Automatic mode and multiple fan speeds
This will automatically adjust the speed depending on the level of pollution indoors.
Washable pre-filter
Pre-filters catch pet hair so they must be washable.
What percentage of the US population is allergic to cats?
Studies show that about 10 to 20% of the population is allergic to cats due to their allergens. However, in the United States, the statistics go like this: about 30 to 40% of people have allergies, 90% of U.S. households tend to have cat allergens, and 38% of the U.S. households have at least one cat or two. The same statistics show that 50 million Americans have yearly allergies.
In short, whether you live in the United States or overseas, allergies to cats and other pets can be a problem worth talking about. This is why air purifiers are greatly in demand within American communities and states, especially if you are keeping more than one fur baby in the house.
Conclusion
In the long run, cat allergies are terrible when not managed properly. That's why having clean and fresh air indoors will benefit the allergy sufferer so you no longer have to keep blaming the cat. You can keep your feline friend at home with proper grooming and with the use of an air purifier to manage the pet dander flying around the house.