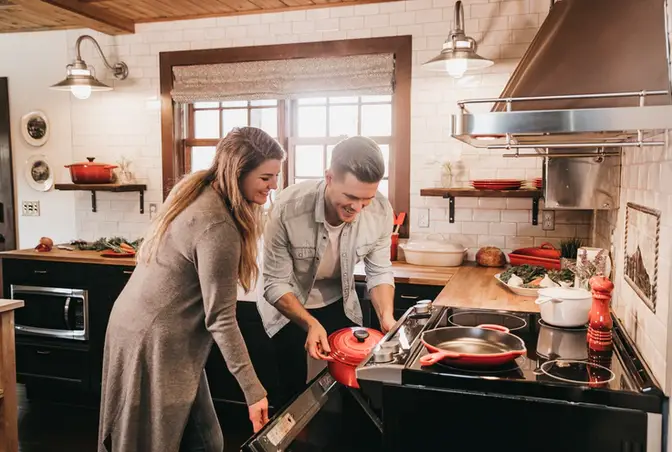 Ever wonder what is the best air purifier for cooking smells? This article can help you, as we list down some suggestions to get rid of that awful kitchen odor.
While cooking at home is a good experience altogether, it can sometimes be unpleasant if the odors start ruining your day (and your reputation for your guests). Sometimes, fish smells can get stuck on your walls and even on your kitchen curtains…and sometimes even seep into your bedrooms!
You don't have to suffer from this kind of scenario – there are many ways to combat cooking smells and help manage them so that you can work with a clean kitchen to serve your guests (and your family!). Here are some of our suggestions on managing terrible cooking smells.
Do air purifiers remove the cooking odor?
Yes, you can! If you ever wonder, "can you use an air purifier for cooking smells?" then absolutely, air purifiers can work against them. Here's why:
Cooking odors can be absorbed by carbon filters. Whatever you've just finished cooking can be absorbed by these filters because of their technology and nature. The activated carbon filter is usually placed in a multi-stage filter system that's in your typical air purifier.
Air can move these smells away. With the multiple fan speeds, your air purifier can blow the smells away, especially if you have a window or a vent area to drive the fishy smell away.
UV lamps can sterilize the air from mold spores. Sometimes, mold spores can cause bad smells, which can grow out of dirty dishes and pots. UV lamps can kill these mold spores to disinfect your kitchen space.
How do you get rid of cooking smells?
Cooking fish and fried food can be a necessity sometimes when you're preparing food for guests, especially kids, but worrying about the smell can make you regret cooking them. Here are simple ways of working with cooking smells that linger:
Clean up your dishes and pots quickly. There is a saying that goes "clean as you go" that is often seen in most restaurants and fast food chains. This basically means that you should clean up as you go about the kitchen to avoid the smell from lingering into the walls and floors of your cooking space. Leftovers can sometimes form mold, which can generate that off-putting smell.
To prevent such mold from ever taking over your kitchen space, it's best to clean up your dishes and pots right after you use them. You can either wash them manually or have a dishwasher do the job. Using dishwashing liquid with antibacterial properties can also help to reduce or get rid of the mold spores that might be in your plates, utensils, or pots.
Scrub the walls and wash the curtains. If the smell has already been stuck onto the walls of your kitchen and curtains, you can just clean them up. Try scrubbing the walls using vinegar and then wash the curtains in your washing machine as per the instructions of the manufacturer.
Try using an air purifier. A good air purifier with the right kind of filter can do the trick for your bad-smelling kitchen. One such example would be the Coway AP-1512HH, which not only has a true HEPA filter but also has a pre-filter that's washable and a carbon filter.
This feature can help to neutralize bad odors in your kitchen and what's more, it has an air quality indicator so it automatically detects and adjusts the speed. This would be great if you're always busy in the kitchen with dirty hands.
You can also set its timer and you don't have to look inside to check the filter – it already has a filter change indicator. The small footprint also helps if you have a small kitchen and don't know where to place an air purifier.
Can HEPA filters remove odors?
Yes, they can, as long as they are combined with other filters such as an
activated carbon filter. One such example would be the Winix 5500-2 Air Purifier with True HEPA.
This air purifier combines the power of true HEPA and a washable AOC carbon filter, which helps to get rid of both air pollutants and bad odor – cooking odors included. And since the carbon filter is washable, you don't have to spend serious $$$ in replacing it every now and then!
The activated carbon filter does the job by absorbing and neutralizing the odors in your kitchen. Since this unit has 4 fan speeds, it may work better than less powerful units – a plus point if you have a large kitchen to cover.
What is the best air purifier for odors?
We'd like to suggest the LEVOIT LV-PUR131 Air Purifier if you truly hate
the smell of fish lingering around your kitchen after cooking.
Here's how it can help with your kitchen to smell nicer:
1. It has a 3-stage filtration. It combines the powers of a pre-filter (for large particles such as pet dander), true HEPA filter (for dust mites and pollen), and its activated carbon filter (for cooking smells, VOCs, and the like). Therefore, it not only cleans the air from pollutants but also freshens the smell.
Great for large rooms. With a rate of 4.5 air changes per hour, it can cover up to 360 square feet of room – perfect for most kitchen spaces. This would be important if your kitchen is designed for a big family or if you don't have a lot of ventilation or open windows around.
Multiple fan speeds. You can choose the speed to be low or high depending on how much your kitchen smells bad – or you can let the air purifier adjust and sense the air on its own. Blowing air around is important to help keep the cooking smells away because stagnant air is usually what causes these bad smells to linger around.
Quality certifications. This unit is not only CARB-compliant but it is also Energy Star certified so that you can be guaranteed with a high-quality product that's safe (and ozone-free!).
Conclusion
To wrap it up, cooking smells may sometimes feel like it's difficult to take out of your kitchen, but with the right air purifier, you can help to freshen up your cooking workspace again. It's just the matter of making sure your air purifier has activated carbon filter so that it can absorb odors to free your kitchen (or room) from cooking smells.