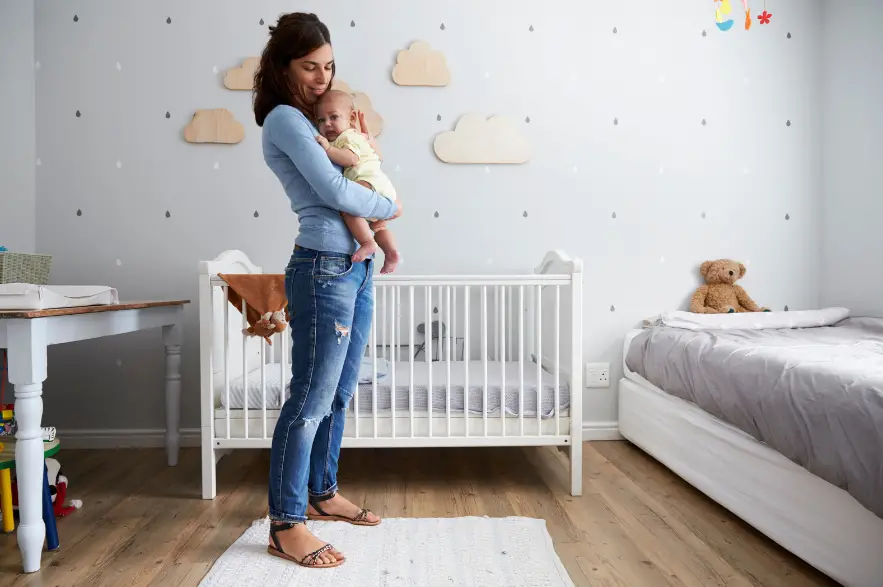 Babies need to breathe fresh air in their first few years so they will need the best air purifier for a nursery for that. The lungs of our little ones at the earliest stage of life are not yet fully-developed, hence, they are more prone to getting sick than older children.
That's why we made this guide for you – we want your newborn(s) in the nursery to breathe clean and safe air to help keep them healthy for their development.
Should I use an air purifier in the nursery?
Absolutely! A baby room should be purified properly to help your little ones' immune systems to adapt. After all, as mentioned above, they're still too young and can get sick easily so they need something to ward off pollutants such as dust mites, pet dander, and other pollutants.
When it comes to the best air purifier for a nursery, we suggest the Medify MA-40 Air Purifier, which can clean up to 840 square feet, making it a great air purifier for large areas. What makes it suitable for baby rooms is the H13 True HEPA Filter, which can clean up to 99.9% of particles as small as 0.1 microns. What's more, it has an activated carbon filter to take out bad odors as part of its 3-in-1 filter.
With up to 3 fan speeds to choose from, you can adjust depending on the needs plus it also has a sleep mode to minimize the noise level and lights (to help your baby sleep better). We also found it has an 8-hour timer so that you can just "set it and forget it".
Here are other specs to note about the Medify MA-40:
It is Energy Star-certified, which makes it eco-friendly
The air purifier has a filter replacement indicator
A child lock keeps the settings from being changed
The filter can be replaced every 6 months
It has a relatively high CADR of 224 CFM, making it fast in cleaning the air
Another unit that will get rid of dust mites, pet dander, and cigarette smoke in the baby room is the HATHASPACE Smart Air Purifier, which has a 5-in-1 filter system that absorbs volatile organic compounds (VOCs) and the like.
Similar to the previous recommendation, it also has a True HEPA filter to get rid of small particles. Suitable for nurseries up to 700 square feet, this air purifier has an auto mode so you don't have to manually tinker with the settings (it also has 3 fan speeds like the Medify air purifier).
This air purifier would be greatly recommended for nurseries that have the following problems:
Smoke and pollution (from guests and/or nearby establishments)
Dust and allergens (especially in the city)
Bacteria and viruses (to keep your baby safe from harm)
Pet hair and dander (if you keep pets around as well)
All in all, we think this is the best air purifier for a nursery that has a lot of babies at once – especially since you don't want to disturb their sleep at night (use the auto mode).
Are air purifiers good for babies' rooms?
Absolutely! Air purifiers will help your little one to stay healthy and sleep better if it has the right specs, such as having a True HEPA filter, an activated carbon filter, and if it meets the square feet requirements of your nursery or baby room.
If you are still not convinced, here are reasons why you should use an air purifier for your baby's room:
It helps your baby sleep better
Sleeping is important for your baby's growth. Interrupted sleep will result in your baby often getting stressed and waking up in the middle of the night, which will take a toll on their immune systems. Therefore, it helps to make their nursery a great place to sleep in by using a quiet and powerful air purifier.
After all, we did list using an air purifier as one of the seven ways to keep the air clean (find out more in our guide). Your baby's nursery can benefit from the Levoit Core 400S Smart True HEPA Air Purifier since it is Wi-Fi controllable, meaning you don't have to get inside the room to adjust the settings.
This nursery air purifier has a 3-stage filtration system, making it a HEPA air purifier that will get rid of dust mites and particulate matter in your baby's room. It also has an auto mode to help you clean the room and maintain good air quality while:
your baby is asleep
you need to go out for a while
the weather and pollution levels change often
It also has a high CADR (clean air delivery rate) of 260 CFM, making it great for large rooms due to the fast air exchange (up to 5x). Recommended for 403 square feet, we think this is the best air purifier for those who want hands-free air cleaning for your baby's nursery due to its remote control to adjust the settings.
Most air purifiers are also nearly whisper-quiet in terms of operation, such as the BLUEAIR Pure 311 Auto Air Purifier. With only as low as 23 dB of noise level, your little one will sleep more peacefully. After all, there are also many benefits of sleeping with an air purifier.
Aside from being a sleep-friendly air purifier for baby's health, it is also good at removing airborne allergens with its HEPASilent technology and larger particles with its fabric pre-filter. It also has a carbon layer for removing odors that cause indoor air pollution.
What we like is that it has an auto mode that cycles through its 4 fan speeds to adjust depending on the quality of the air in your baby's nursery. This air purifier is tested and Zero Ozone-Verified by the AHAM (association of home appliance manufacturers), as well as CARB (California Air Resources Board).
It cleans the air from contaminants
As mentioned above, the BLUEAIR and Levoit air purifiers both have powerful filters (HEPA and activated carbon), which will clean the indoor air of your nursery, helping your baby to sleep better in a comfortable environment free from contaminants.
Babies, especially newborns, are prone to getting illnesses so it pays to keep their room clean as much as possible. If ever, we suggest H13 HEPA air purifiers such as the Medify MA-40 Air Purifier that we mentioned above, which we think is a great unit for baby rooms.
The difference between H13 HEPA and regular HEPA is that the former is a medical-grade type, which is:
usually used for hospitals and clinics
cleans smaller particles (up to 0.1 microns)
generally recommended by health experts
also used by asthmatics and people with allergies
So, if you ask us, we'd prefer an air purifier with a higher HEPA rating since it's suitable for babies who have a sensitive immune system. This will ensure that your newborns or little ones will only breathe clean and fresh air.
Your baby will stay healthy
Babies who grew up inhaling only clean and safe air will have less risk for allergies, asthma, and lung problems in the future. That's why it is important to maintain healthy indoor air quality, which an air purifier can help with.
All kinds of irritants can stay inside the home – especially if you have guests from the outside world. Whether it's tobacco smoke, pet dander, food smells, and the like, you'll want to shield your baby from these harmful contaminants.
As these units are typically used by folks who have asthma and allergies since they remove dust, pollen, pet dander, and other pollutants, it makes sense to use air purifiers to help keep your young one away from these irritants.
We also advise getting an air purifier that has an activated carbon filter because it will eliminate VOCs or volatile organic compounds, which are dangerous and can cause:
breathing difficulties
organ damage
headache
lung problems
cancer
Babies breathe faster than adults
Since an infant will typically breathe faster than an adult in an hour (40 to 60 times), there is a big chance that they will breathe in harmful VOCs, pollutants, and other irritants that could make them sick. Therefore, not only do they need an air purifier but they also need constant air cleaning.
That's why we're lucky to have suggested the Levoit Core 400S above, which has a 5x air exchange rate. Having an air purifier with a quick filtering system will adapt well to your baby's needs. Nurseries need to constantly be clean to help your little one in breathing healthy air.
As babies breathe faster, they also need constant clean air. Therefore, when using an air purifier, we suggest the following to ensure that it is effective at keeping your nursery free from pollutants:
run the air purifier the whole day
use a timer at night
keep the air purifier on even when you're outside
use the auto mode to conserve energy
place the air purifier in an area with good airflow
always check the filter if it needs to be replaced
don't forget to manually clean the nursery room
Are air purifiers safe for newborns?
Yes, air purifiers are safe for your nursery and your little one, as long as it doesn't produce ozone, which can be harmful to babies (and anyone) in the long run. As we mentioned above, air purifiers that are ozone-based can damage the human lungs.
Here are some air purifier types and features that we generally don't advise for newborns:
ozone generator
ionizer
UV light or UV-C
Electronic filters
Ionizers, UV-C, and electronic filters all emit ozone at some point so they are not recommended for babies in general. If an air purifier passed the CARB compliance of only less than 0.05 ppm of ozone, it is generally safe for your baby to use.
Therefore, we advise getting an air purifier that is CARB-compliant and also AHAM-verified. Fortunately, many air purifiers nowadays do not produce ozone anymore and just use technologies that are proven to eliminate pollutants from the air, such as:
HEPA (high-efficiency particulate air)
activated carbon filter (for eliminating bad smells)
These two technologies will help clean the room where your baby sleeps in without any side effects. So, whenever you want to have an air purifier for your little ones, make sure you get the right type of air purifier for the job. Either way, the best air purifier for a nursery still depends on your:
room size
pollution levels
budget
If the room size is not suitable for your nursery, your air purifier will not do its job properly. The ceiling height can also be a factor in terms of air cleaning. You might also benefit more from air purifiers with more fan speeds if you live in a highly-populated city with a bigger risk for pollution problems.
What is better for a baby: humidifier or purifier?
Generally speaking, they are two different machines that specialize in different purposes. Humidifiers are only used to keep the air from getting too dry, which can be bad for anyone's health (especially for your baby). Air purifiers are a different story, but they can be used together.
As mentioned above, air purifiers are cleaners – they reduce the instances of cigarette smoke, mold spores, dust mites, volatile organic compounds, and more. Since newborn immune systems are still weak, air purifiers are helpful for your baby's room to remove airborne contaminants.
If your room suffers from dry air and you are worried about your baby's safety, we recommend putting a humidifier and an air purifier in the same room. However, always make sure to choose the best air purifier for a nursery for your needs, depending on the room size, filters, and the like.
FAQs
Are air purifiers with UV lights safe for your baby?
While some air purifiers have UV lights to sterilize bacteria and mold, we don't recommend them for use in nurseries because generally, UV light can still be harmful in large amounts to humans – especially to newborns. Instead, use the normal filters such as the true HEPA and/or the activated carbon filter.
Are air purifiers with ionizers bad for babies?
Generally, yes, because ionizers use ozone, which can be harmful to your baby's lungs. Ozone-based air purifiers are starting to become phased out and replaced with safer alternatives – those with HEPA filters and activated carbon filters.
Where should I place the air purifier in a nursery?
Ideally, it is best to put an air purifier away from where the baby might be able to reach it (if they can sit, stand, and crawl). Some air purifiers have a fan and open design so make sure they are placed away from curious fingers.
Can you use a humidifier with an air purifier for your baby?
Yes, humidifiers are safe to use with air purifiers, as mentioned above. Humidifiers are also sometimes incorporated with most air purifiers nowadays. A humidifier keeps your baby from breathing dry air, which can cause a sore throat.
Are air purifiers too loud for baby rooms?
It depends on the air purifier, but most units are typically low on noise levels. The BLUEAIR unit we mentioned earlier can operate as low as 23 dB so it won't disturb your baby's sleep. Fortunately, most units also have a night mode that has a slower fan speed for your little one to rest easy.
Is an air purifier child-proof?
Yes and no – it depends on where you place it, as we mentioned above. Keep the air purifier away from the baby to avoid untoward accidents. It also helps if the air purifier has a child lock to make sure the settings stay in place.
Can you turn off the panel lights of the air purifiers to help your baby sleep?
Yes – most air purifiers have that feature. Since babies can be sensitive to light, it helps if you have an air purifier that has light dimming or a night mode. Not only does a dim mode help conserve energy but it also keeps your little one well-rested and not distracted by the light.
When should I replace the filter of an air purifier for the nursery?
It depends on the manufacturer's specifications, but most air purifiers that use HEPA filters are good for at least 6 months without replacements for the filter. If you are not sure, ask the company and look at the manual to check. Some air purifiers also have a filter replacement indicator light to help you out.
Conclusion
So, what is the best air purifier for a nursery? It depends on many factors but generally, we advise getting an air purifier with a high CADR and quality filters that best suit your room size. Having a quiet air purifier also helps to keep your baby asleep longer when needed.
Always remember to look for units with HEPA filters and an activated carbon filter for removing airborne contaminants thoroughly. With that, we hope this guide helped you out in choosing an air purifier to reduce indoor air pollution for your newborn's place.