Introduction
If you have pets around the house, then you might be looking for the best air purifier for pet hair to purify your indoor space. This article has our suggested picks as well as tips on how to remove pet hair (and even bad smells).
Budget-friendly
Middle-priced
Step-up price
Do air purifiers help with dog smells?
Yes! If your air purifier has a charcoal filter or activated carbon, it will help to remove the bad smells from your couch and furniture when your pets linger around and sit there. Not all of the air purifiers out there have an anti-odor feature, so you need to look for the charcoal or carbon filter in order to remove dog smells.
Do air purifiers help with pet hair?
Yes, the majority of air purifiers can remove pet hair. They can help manage your pet's dander and fur with a good HEPA filter, mostly a True HEPA filter. They are designed to remove up to 99.9% of pet hair and dander and other particles as small as 0.3 microns or even smaller.
Do air purifiers get rid of pet hair?
Yes and no – it depends on the different factors. For instance, if you do have an air purifier but you aren't cleaning your pets often, or if you aren't vacuuming as much as you should, then it is inevitable that pet hair and dander will still be all over the place.
How do you remove pet hair from the air?
Here are the different ways to remove pet hair from your indoor air:
Clean your surroundings more often. If you clean your house, bedroom, or office often, your air quality won't have to be too polluted.
Invest in an air purifier for pets. Air purifiers remove pet dander, allergens, and the like from your indoor air.
Limit your pet's activity in the house. Keep your pets off-limits to places that you know guests arrive more often.
Groom and bathe your pet more often. Grooming helps them shed in one place instead of shedding around the house, so it's important to attend to your pet's hygienic needs.
Our picks for the best air purifier for pet hair
Here are our top picks for the best air purifier that may solve your pet hair and dander problems:
Budget-friendly
For those who don't have a lot of budgets, here's a wallet-friendly pick we'd like to suggest: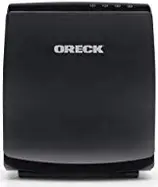 Key features
Has a powerful HEPA filter for odor, pet dander, and other pollutants
Works quietly
Compact size at 12 x 8 x 13 inches
Covers up to 118 square feet – ideal for small to medium-sized rooms
Small but powerful, this one is ideal not only for your house but also in an office setting. Not only is it compact to carry around, but it is also quiet so it won't disturb your work. If you keep a dog in your bedroom, this is a miniature but effective solution for pet dander.
Middle-priced
If you want something balanced with the price and the features, here are some of our just-right picks: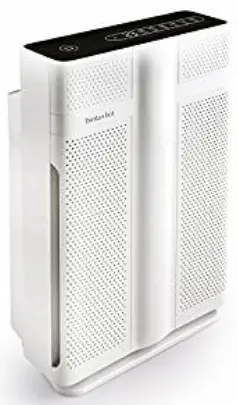 Key Features
The auto mode that senses air quality and adjusts accordingly
Ideal for large rooms up to 860 square feet
Has an ionizer to remove odors from your pets
It has a filter change indicator
Also uses activated carbon/charcoal filter to remove odors and VOCs
This air purifier is the best for those who have large rooms to cover and freshen up. It's easy to use because of the filter change indicator, for times when you forget to clean up or replace your filter. If you have a large bedroom or living room, it's a good air purifier to consider.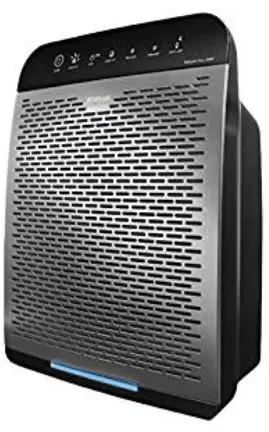 Key features
A true HEPA filter can remove particles at 0.3 microns
Auto mode senses your air and adjusts the fan speed
Ideal for rooms up to 508 square feet
Uses activated carbon to remove pet odor
Whisper-quiet operation for offices or bedroom
An air purifier for medium-sized rooms, this one is great for those who have pet allergies. If you have a normal-sized room, it will be a decent pick. You don't have to worry about switching the fan speeds due to its auto mode.

Key features
Slim tower design
Up to 320 square feet of coverage
Uses a True HEPA filter
Has a carbon filter for odors
4-stage air cleaning
With its slim design, this air purifier is best used in small rooms such as bedrooms. It may be small but its true HEPA filter allows you to clean with its 4-stage filter, while its carbon filter helps to keep away odors caused by your pets.
Step-up price
Do you have enough budget for a step-up product? Here's our suggestion: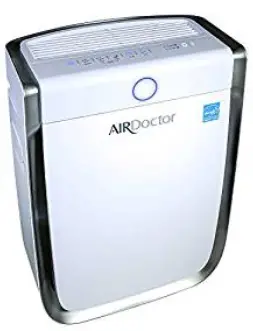 Key Features
An auto sensor that adjusts to the indoor pollution level
Uses an Ultra HEPA filter for cleaning particles
Also ionizes to remove pet odors other than dander
30% quieter than other air purifiers of the same price
Has a change filter alert
If you want an automatic sensor unit that detects the level of pet dander or indoor pollution in your room or house, this is a good unit to consider.
What is the best air purifier for pet odor?
A good air purifier that can remove pet odors should have the following:
Carbon filter or activated charcoal
Multi-stage filtering
Conclusion
To wrap it up, air purifiers are ideal for those who keep pets, such as dogs and cats. They not only lessen the air's likelihood of causing allergies or asthma, but they also keep your guests comfortable even when pets around (without the dander and smells).