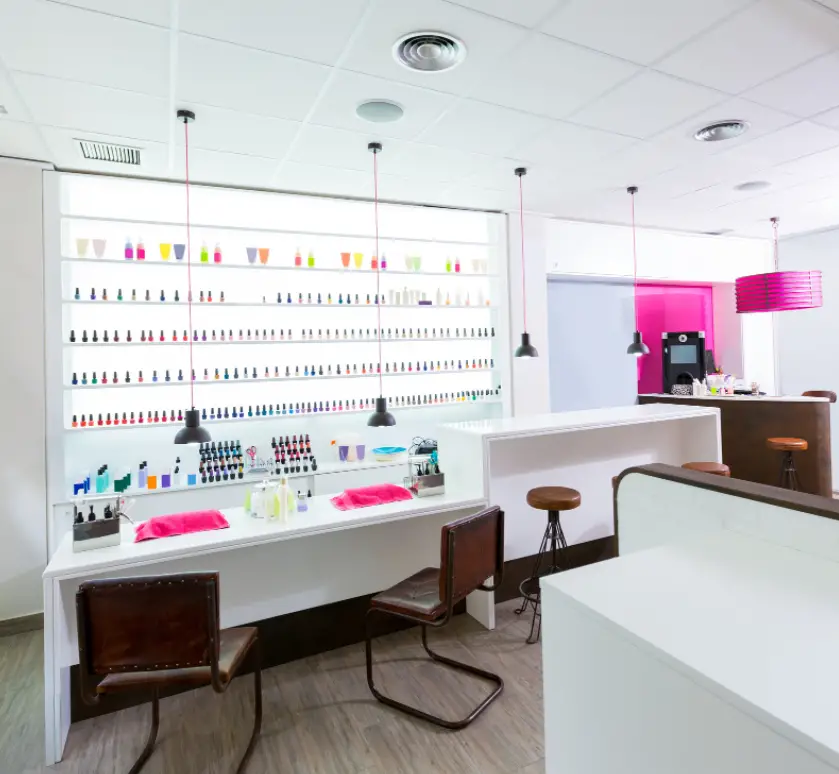 If you own a nail salon, you will probably be put off by the strong acrylic smell of nail polish, which is why you'll need the best air purifiers for nail salons. Not only will removing the acrylic smell from your indoor space make the customers feel comfortable but it will also make the air healthier to breathe.
Acrylic smells from nail polish will not only put you off but also cause new customers to feel uneasy. Generally, most acrylic chemicals from nail polish can cause dizziness when inhaled in large amounts. While some nail polish brands have fewer harsh chemicals, they can still give off smells.
So, with that in mind, let's look at some ways to help get rid of the acrylic smell in a nail salon. We wrote this article to give you air purifier suggestions and other tips to help clear your salon air and make it healthy and less smelly so you won't feel nauseous.
Do air purifiers work for nail salons?
Yes, air purifiers work well for nail salons – as long as they have an activated carbon filter that will trap and eliminate VOCs (volatile organic compounds). Your average nail polish emits VOCs including toluene, acetone, formaldehyde, and more. These are dangerous to your health when inhaled too much.
Therefore, you'll need air purifiers that have activated carbon to get rid of these VOCs from the air. Here are some of our suggestions for you:
For those who want a stylish unit, the Alen FLEX Air Purifier is a great choice thanks to its customizable color that will suit your nail salon at best. With up to 700 square feet of cleaning capacity, it has both H13 True HEPA for 0.1-micron particles and a 0.66-pound activated carbon filter for bad smells.
It only consumes 50 watts on the highest setting, making it ideal for running inside a business such as a nail salon. The noise level is from 39 to 55 dB depending on the speed you choose, so it won't be jarring to hear.
As an Energy Star-certified True HEPA air purifier, it has a filter life of up to 12 months. Due to its design, it also makes a great air purifier for office space.
Another VOC-fighting unit is the HATHASPACE Smart Air Purifier, which has H13 True HEPA and a honeycomb activated-carbon filter. It will clean big spaces up to 1,500 square feet so it's good for large nail salons.
We like that it has an auto mode, which eliminates the hassle of having to switch speeds. Using this model, the air purifier will automatically adjust according to the pollution levels.
The Bissell air400 Professional Air Purifier has a combination of carbon filters and HEPA in a 3-stage filter system. It also has an automatic sensor (CirQulate System) that changes the fan speed depending on how dirty the air is – perfect for nail salons that have too many customers most of the time.
It has a fairly high CADR (clean air delivery rate) of 279, meaning it will clean the air faster than most air purifiers do. This air purifier will clean up to 432 square feet so it's suitable for medium-sized salons. We also like that the company uses part of its sales to help homeless pets.
It is a common misconception that nail salons aren't for pregnant women – the Mila Air Purifier with Mama-to-Be Filter is a good choice for nail salons that may also have expecting mothers as clients. It has a high CADR of 254 and it will clean up to 540 square feet per 30 minutes.
This air purifier has a 0.7-pound granular carbon filter aside from its H14 HEPA filter, which is good for bad chemicals like formaldehyde.  We like how this air purifier can be Wi-Fi controlled using your phone or other devices. It's also quiet at only 24 dB, making it suitable for maintaining a chill atmosphere in the nail salon.
Does an air purifier help with acrylic smell?
Yes, air purifiers do help with getting rid of the acrylic smell that comes from nail salons. That's because an activated carbon filter gets rid of VOCs or volatile organic compounds. Formaldehyde, acetone, and toluene are commonly found in nail polish – which your air purifier will get rid of.
As long as your air purifier has a properly functioning and well-cleaned activated carbon filter, it will help eliminate the acrylic smell that lingers in your nail salon, resulting in happy customers.
How do I stop my nail salon from smelling?
Try opening the doors and windows of your nail salon – it will help get rid of the weird smell that comes from nail polish, other chemicals, and solvents. Aside from that, blowing the air around using a fan and combining it with an air purifier will help remove the bad odor.
You can also try nail polishes that have no toluene or limited ingredients so that they won't smell bad. Although these nail polishes are slightly more expensive than your usual store-bought brand, they will help in reducing the acrylic smell in your nail salon.
How do I get the smell out of my nail salon?
Use the combination of a box fan and an air purifier to try pushing the air outwards (out the door)so that it doesn't stay and linger around your nail salon. You can also add some scented candles as well afterward.
You should look for the best air purifier to remove toxins that have an activated carbon filter. The idea here is to get rid of the smell by blowing away the contaminated air, especially if your salon is quite a closed space.
Conclusion
To wrap it up, you can avoid acrylic smells in nail salons by looking for an air purifier with an activated carbon filter that takes out formaldehyde and other VOCs. Such chemicals are often found in nail polish so an air purifier makes a great addition to keep your nail salon smelling fresh.