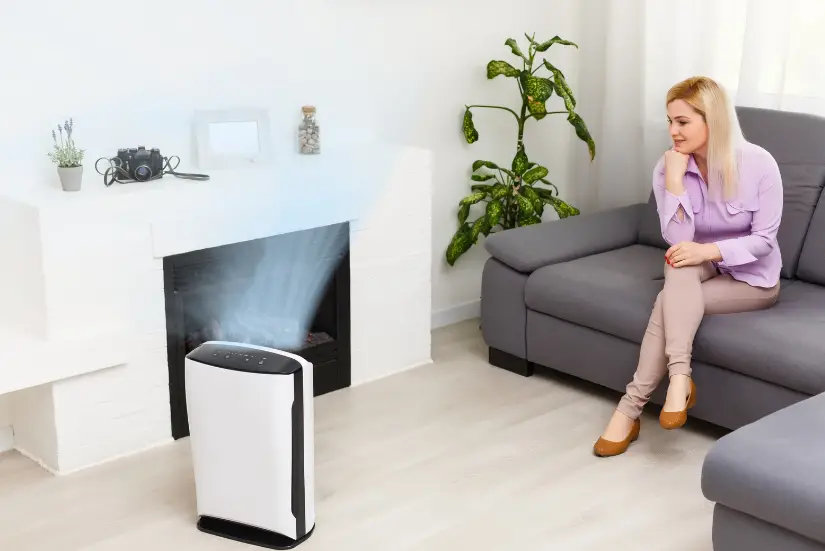 Air purifiers usually have CADR ratings listed in their specifications, but what is a CADR rating in air purifiers? Why is it so important to know and how is it determined? Don't worry – we wrote a guide just for you!
CADR or Clean Air Delivery Rate is the way an air purifier is professionally measured and tested by AHAM or the Association of Home Appliance Manufacturers. AHAM is a governing body that's been studying and analyzing air purifiers and their capability to clean the air depending on a variety of factors.
In a way, this makes CADR a worldwide standard when it comes to knowing the cleaning power of an air purifier. But, is CADR alone enough to tell if an air purifier is good or not? Let's find out!
What is a good CADR score for an air purifier?
First of all, what is a CADR rating in air purifiers? Well, air purifiers have CADR listed down on their specifications, and this can help you decide the ideal air purifier for your needs, such as for your room size or pollution concern.
CADR ratings help you decide which air purifier is suitable for which room. The CADR rating of an air purifier is listed in cfm (e.g., 200 CFM) or cubic feet per minute, which stands for the speed at which an air purifier can clean pollution (or a specific type of particulate matter).
For instance, a higher CADR of 300 CFM is certainly better for larger rooms when compared to using an air purifier with only 150 CFM. That's not all – the CADR rating may vary depending on specific pollutants, such as smoke, dust, and pollen.
You might be wondering: how does AHAM know the CADR of an air purifier? Here are their testing steps and guidelines:
Testing area. Air purifiers that are tested by AHAM are set in a 1008-cu. ft. area to measure their full capacity.
Pollutant data. Before air purifiers do their job of cleaning the room, a controlled number of pollutants are measured first.
Activation. AHAM experts and operators then run the test by turning on the air purifier for 20 minutes. They also monitor the number of contaminants using instruments.
Results. The test then reveals the amount of clean air that the air purifier can produce every minute, measuring its CADR.
Does CADR matter in an air purifier?
So, you might be wondering: why use an air purifier with a higher CADR? Is it the only specification that matters when choosing an air purifier?
While CADR ratings are important, you should know that it only measures particles and not VOCs such as harmful gases. That's tested usually for a different filter type (e.g., activated carbon filters) and CADR is only applicable for HEPA-type filters that eliminate dust and particles from the air.
Furthermore, aside from the CADR rating, you should also consider the type of HEPA filter used. For instance, True HEPA is highly recommended since it can clean smaller particles (up to 0.3 microns) while H13 HEPA can clean even smaller ones (up to 0.1 microns in size).
Likewise, CADR ratings are also tested when the air purifier runs on its maximum setting (or fan speed). Therefore, you might not get similar fast-cleaning results when you run the air purifier at a slower speed. Running your air purifier all day helps to compensate for using the slower speed (but quieter noise levels).
Last but not least, air purifier filters vary in their recommended lifespan. Most HEPA filters are recommended to be replaced in around 6 months while others are either for shorter or longer periods. Each manufacturer is different when it comes to the longevity of an air purifier filter.
How much CADR do I need?
The CADR that you'll need depends on a variety of factors. Here are some of them:
Room size
As mentioned earlier, a higher CADR should be considered if you have a bigger room. The general formula for computing the ideal CADR (or minimum) for your room is: (room size) x 2 / 3. As an example, if you have a 300-square-foot room, you'll need to have at least 200 CFM for your air purifier.
To help you figure out the ideal CADR based on your room size, here are some common room sizes and their corresponding (recommended) minimum ratings to get you started:
150 square feet = 100 CFM
200 square feet = 133 CFM
300 square feet = 200 CFM
500 square feet = 333 CFM
750 square feet = 500 CFM (or two units with 250 CFM each)
1,000 square feet = 667 CFM (or two units with 333 CFM each)
2,000 square feet = 1,334 CFM (or four units with 333 CFM each)
Pollutant concern
Air purifiers usually have one general CADR rating but some units do have different numbers depending on the type of pollutants, such as smoke, dust, and pollen. You'll see them listed on the product specifications and they usually vary depending on the manufacturer.
So, do air purifiers help with cigarette smoke if they have a high CADR rating? Furthermore, what's a good CADR rating for smoke, dust, and pollen? It still depends on the room size but you'll generally want a higher number for the pollutant that concerns you the most.
For example, if your home is near an industrial field, you'll want higher CADR ratings for smoke and dust. On the other hand, if you're in a rural area where pollen is a huge concern (especially for folks with allergies and asthma), consider an air purifier with a higher CADR rating for pollen.
What should I look for when buying an air purifier?
The first feature that you should look for in an air purifier is the type of filter. We recommend at least a HEPA filter or higher (True HEPA or H13 HEPA) to clean up your indoor air from pollutants and the like. Furthermore, as we mentioned above, a higher CADR depending on your room size is important, too.
Air purifiers also need to have odor-eliminating filters. For instance, an air purifier for a home gym should have an activated carbon filter to eliminate bad smells. After all, a home gym will definitely smell like human sweat (especially if many other people use it).
We also prefer an air purifier that has multiple layers of filters for added strength against pollutants. Also, an air purifier with minimal noise levels (usually less than 30 dB) will help you to sleep properly at night. Added to that, most units nowadays come with a timer and a dimmer for bedtime use.
FAQs
If I don't know the exact room size, what's a recommended CADR for an air purifier?
For those who want to give an air purifier as a gift for the holidays and you're not sure of the room size of the recipient, a good rule of thumb is at least 100 CADR for your intended air purifier. You can also use the above-mentioned guide to help you get an estimate of the CADR you should aim for.
How do I measure CADR for a two-story building?
If you have a second floor (or more), you'll need to measure the CADR for each room. For instance, if you have a two-story building with each floor being 300 square feet, you'll need at least 200 CFM for an air purifier for each floor.
What is ACH and how does it work?
ACH or air changes per hour dictates how fast an air purifier can clean. A 500-square-foot room with an air purifier that has 333 CFM will equate to one ACH. If you want to improve the ACH (and make the air purifier clean faster), you can get an air purifier with a higher CADR rating.
Is there an air purifier with more than 500 CADR?
Yes, although they are typically pricier since they are designed for larger rooms. If you can't afford them or if your room is too spacious, you can also try placing two air purifiers that, when combined together, form 500 CADR (or more). Setting up small air purifiers in zones is helpful for more thorough cleaning.
Is it ok to use a large-room air purifier for a small room?
Absolutely! It's much better to use an air purifier with a CADR rating intended for large rooms for a small room. There's no "overkill" concept when it comes to CADR ratings – it may even give you the benefit of faster air cleaning.
Conclusion
To wrap it up, if someone asks, "what is a CADR rating in air purifiers?" then point them to this guide. Knowing the CADR rating is crucial when choosing your air purifier so that you'll get the most out of it depending on the room size and the pollution concern(s).
We hope that this article helped you in understanding the importance of CADR ratings when you buy a new air purifier (whether for your home, office, dorm, or other types of rooms) – and we hope your family members and friends will, too!