Introduction
If you are looking for a detailed Blueair Blue Pure 211 review, you've come to the right place. This portable air purifier is one of a kind with its features, and in this article, we're going to list them down, so that you'll know and decide whether to buy this air purifier or not.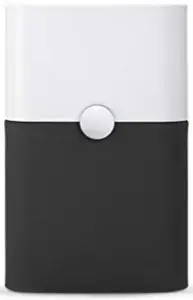 Our Blueair Blue Pure 211 Review
Here's our take on the Blueair Blue Pure 211 on its features, specs, benefits, as well as its pros and cons:
Pros
Cons

Quiet performance
Filter replacement is budget-friendly
Durable for its price
Works well for highly polluted indoor air

Does not have a timer
No automatic air sensor
Doesn't have a true HEPA filter
Features and Specifications
Below are the key features that you need to know about with the Blue Pure 211:
Filtration System – this air purifier uses a 3-stage setup that can trap allergens, pet dander, mold, smoke, and much more. It uses activated carbon to keep the VOCs and bad-smelling gases at bay – perfect for kitchen odors and hospitals as well. You can also wash the pre-filter when it's already full of dust.
Quiet Operation – at only 31 to 56 dBA of noise, you can enjoy a quiet operation from this unit. This would be applicable if you'd place the unit in your bedroom, in a hospital room, or anywhere that requires an environment that's not too noisy.
Coverage Area – this air purifier is able to operate at up to 540 square feet, which makes it ideal for medium-sized rooms and the like. Most other air purifiers can only go for 350 square feet, but this one is pretty nifty for the average room size. You can also use it for an office space or even a living room.
Unit Design – the portable design of this air purifier at 21 x 13 inches makes it applicable in various places in your bedroom, office, and more. It's also available in different colors to match your beddings, room color, or motif.
Benefits and Best Uses
The Blue Pure 211 is best used for the following:
Bedrooms. Do you want to freshen your bedroom air from the smell of smoke outside or mom's mixed-up cooking? You can free your bed sheets and curtains from such with the use of this air purifier.
Living rooms. If you have guests who frequently smoke (even if they have to smoke outdoors), having a living room that's free from pollution is a big deal for health and safety. If you have pets that lurk around these rooms then this is also important.
Hospital rooms. As we all know, hospital rooms need to be sanitized so that the patients can breathe clean air.
Office spaces. An office space that has clean air can have a more relaxed atmosphere for the workers to stay focused.
Pros and Cons
Here are the pros and cons of the Blueair Blue Pure 211, so that you can decide for yourself:
Pros
Quiet – this unit has a very low noise level, which is perfect for bedrooms.
Filter replacement – being budget-friendly, you don't have to worry about frequent filter replacement costs.
Durable – for its price, the unit is pretty strong and decent so you get what you pay for.
Good performance – the unit works well for highly polluted indoor air.
Cons
Timer – the unit doesn't have a timer so it's not ideal for too many overnight operations.
Air sensor – it also doesn't have an automatic air sensor so you may need to turn it on and off manually.
Doesn't have a true HEPA filter – its filtration system isn't a true HEPA, but it still gets the job done (HEPA purifiers usually cost more, anyway).
Do Blue air purifiers emit ozone?
The answer is no – Blueair purifiers do not emit ozone in the air. In fact, they are designed to reduce ozone concentrations in indoor air. If you have any of the models that have a SmokeStop filter, you can actually reduce your indoor ozone. Blueair purifiers comply with the EPA (United States Environmental Agency).

Where to get a Blue Pure 121 replacement filter
The replacement filter is available from the manufacturer in the form of the particle and carbon filter.  The Blue Pure 121 filter is available, but you can also purchase carbon filters for the other models, such as the 411 and the 211.
How long do Blueair filters last?
Blueair recommends that each filter is replaced at least every 6 months of usage. This varies depending on the following factors:
The frequency of usage. How often do you use your Blueair purifier? Frequent usage of the unit may lead to your filter needing a replacement more often.
Level of pollution indoors. Do you live with pets? Do you cook in the kitchen more often? Are there often strong odors around your house or office space? If so, you may need to use your purifier more often as well.
Size of your room. The size of your room can also dictate how much your Blueair purifier works its way to purify the air. Your filter may last shorter if you have a bigger room to clean up. This is true mostly for the air purifiers that are used for larger offices and living rooms.
Location of your room, house or office space. In most cases, if you live in an industrial area then you're more likely to overuse your air purifier because of all of the dust coming from outside the house or office. On the other hand, if you live in a suburb or a less populous area, your air purifier won't have to work as much, leading to a longer lifespan of the filter.
Conclusion
To wrap it up, the BlueAir Blue Pure 211 is a great air purifier for those who want a medium-sized and minimalist-designed unit that can be used at home, in an office space, in a bedroom, in the living room, and anywhere applicable. We hope this comprehensive review helped you decide on the Blue Pure 211!