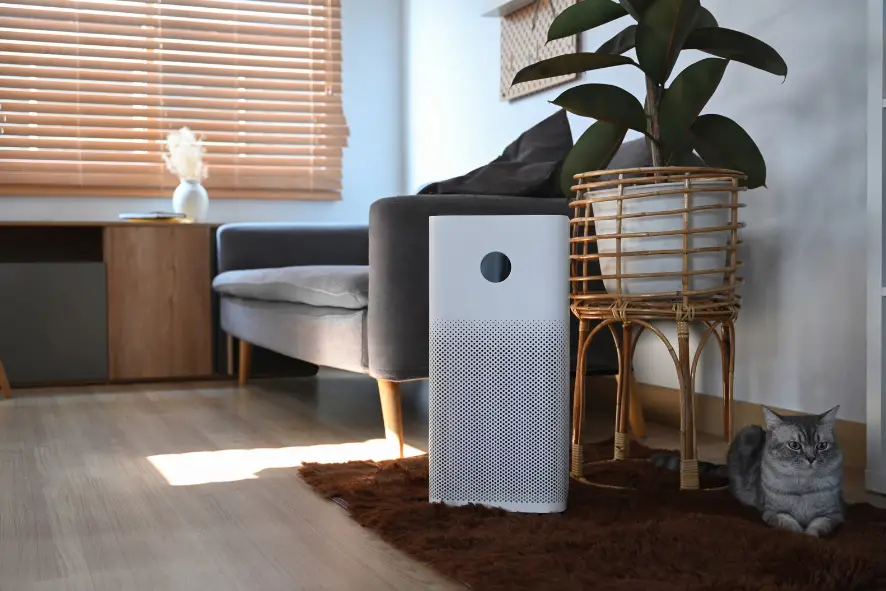 Your indoor air quality could go bad with the onset of pollution from outdoors and from guests, but when it comes to cleaning power, is BlueAir air purifier good? We wrote this guide to give you insights on what to expect from the BlueAir brand.
Blueair's array of air purifiers are made for nearly all kinds of room sizes – from small to large – and are equipped with simplistic controls so you don't need to worry much when setting it up. Convenience is important when it comes to maintaining your home or office space's air quality.
So, if you're ever deciding whether or not to check out and buy BlueAir air purifiers, we've got you covered with this comprehensive guide.
Is Blue pure a good air purifier?
When it comes to indoor air cleaning power, is BlueAir air purifier good? Absolutely! For instance, we think that the BLUEAIR Blue Pure 311 Air Purifier fits the category of the best air purifier for 1500 sq ft since it can clean up to 1,623 square feet and has a CADR of 220 CFM.
Since it cleans particles with a HEPASilent filter, it will catch even the smallest specks of dust in the air. For those who can't stand loud noises, this air purifier s also only at 23 dB so it's quiet enough for sleeping with. What's more, it only uses 3 watts so it's energy-saving as well.
This is a Zero Ozone verified by the Intertek Sustainability Program so it's safe for the environment – especially for kids and pets. This makes it perfect for kids' rooms or if you're looking for the best air purifier for the nursery.
Along with that, the use of H13 HEPA for its filter makes it suitable for people with allergies as this is a medical-grade HEPA filter. It also has a carbon filter for bad odors from pets, leftovers, cooking, smoke, and the like.
Another worthy choice from the brand is the BLUEAIR 5240i Air Purifier, which can clean up to 1,017 square feet in an hour. It has a stylish design and even has Wi-Fi, Alexa, and Google control for convenience. Here are some of its worthy features:
HEPASilent technology – cleans and dust quieter than regular HEPA filters
Color-coded LED – for tracking the air quality
Night mode – has a dimming feature and low-noise mode for sleeping (23 dB)
Energy-saving – only 4 watts when it operates
Comes with an app – you can control the stats of the air purifier using your phone or smart device
Overall, we think this air purifier works well for offices and homes that are looking for a Scandinavian or sleek style since it's also aesthetically looking good. You can use it as an end table due to its design.
What is the most highly recommended air purifier?
The BLUEAIR Blue 211 Air Purifier is one of the most recommended air purifiers from the brand (and in the market today) thanks to its great cleaning capacity of up to 2,592 square feet, which makes it ideal for large and studio-type rooms.
This air purifier also has a quiet mode for sleeping (it also dims the light) and has a one-button system for easy setting. Aside from that, with its HEPASilent technology and its 360-degree air intake, it will purify your indoor air even if the ventilation is not that good.
It also has a carbon filter for smoke so it's suitable for wildfire season, making it a great air purifier for folks living in California or near wildfire-prone forests. For more information, check out our BlueAir Blue Pure 211 review.
Does BlueAir get rid of dust?
Yes, BlueAir air purifiers get rid of dust, as most of them have a high CADR (clean air delivery rate) making them clean a room faster and also with the help of their HEPASilent filter, which can clean up to 99.9% of particles in the air.
A well-recommended unit for getting rid of dust in large rooms is the BLUEAIR Protect 7470i Air Purifier, which can clean up to 2,000 square feet in an hour. It also features Wi-Fi/Google/Alexa controls for homes/offices with automation for convenience.
Like all of our suggestions above, it also uses HEPASilent filtration for cleaning your indoor air. It is also Energy Star-rated and consumes 8 watts of power. Not to mention, it has a low noise level of only 22 dB – great for light sleepers.
With a CADR of 270, it will clean up the air in your room quicker than most air purifiers. What we like about this air purifier is that you can use the filter for up to 1 year. It also has an RFID chip that tells you exactly when to replace your filter.
How long do Blueair purifiers last?
As mentioned above, most air purifiers of this brand will last up to 1-year filter life. However, the filter life still depends on the following factors:
How often do you use your air purifier?
The dust and pollution levels in your home, office, or area
How often do you clean your room?
The ventilation in the room
As you can see, usage, pollution levels, ventilation, and frequency of manual cleaning (e.g., laundry, changing of bed sheets, sweeping, mopping, etc.) can influence the filter life of an air purifier. The filter should be changed as recommended to avoid spewing back dust into the air.
FAQs
Do BlueAir air purifiers have activated carbon?
Yes, most BlueAir models have activated carbon to help clean the air from bad odors, such as kitchen smells and the like. Activated carbon is a substance that absorbs odor and other bad smells from your home or office.
How is HEPASilent different from regular HEPA filters?
BlueAir has a specific HEPASilent type that uses an electrostatic barrier. In our BlueAir vs Dyson comparison guide, we mentioned that this quality makes BlueAir air purifiers have an airy appearance. It's not much different from regular HEPA but it helps reduce the noise levels.
Is BlueAir good for people with allergies?
Absolutely – as Blue Pure 311 (mentioned above) and most other models use H13 HEPA, which is also called medical-grade HEPA. This means it can clean particles as small as 0.1 microns – great for hospitals and people with allergies.
Conclusion
So, is BlueAir air purifier good? Yes – BlueAir models are all well-built and designed with convenience and power in mind. Thanks to the HEPASilent technology, they won't jar your ears whenever you try to sleep and/or study in peace. We hope you liked our suggestions for BlueAir air purifiers!